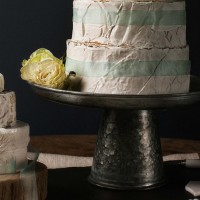 MADISON (WKOW) — This is isn't your grandmother's cheesecake.
"A lot of people are kind of taken back at first, like is that made out of cheese?"  says Fromagination owner, Ken Monteleone.
Cakes of cheese, or cheese wheels decorated to look like wedding or other special occasion cakes, are gaining popularity in the Badger State.
"Being in Wisconsin," explains Monteleone, "If you're going to serve cheese, we want to do it kind of the unconventional way."
Fromagination on Madison's Capitol Square started making the cakes of cheese a couple years back.  Now their popularity is taking off.
"People come in wanting cheese for their special occasion, weddings," says Monteleone.  "So the more we started thinking about it, we said why not do something that creates a memorable moment for that special day."
The idea seems to have originated in England, but it's now found its way to the U.S. and, appropriately, to Wisconsin.
"Having a cake of cheese to showcase Wisconsin has been a nice addition to create that memorable moment," says Monteleone.
The only downside for some cheese lovers, Monteleone says, is while you can get pretty creative, some of the block cheeses won't work as well, and you have to be careful with soft cheeses if you're serving the cake of cheese outside.