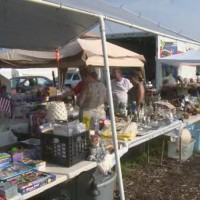 People are setting up for the U.S. 127 yard sale. It officially kicks off Thursday and runs through Sunday.
WKYT caught up with some vendors setting up in Junction City in Boyle County. Most of the vendors camp out during the event, to stay with their items. They have to be prepared for all kinds of weather.
Ronald Godbey runs the Little Variety Shop. He said, "We got everything tied down, the best we could do. We have a makeshift camper with air conditioning in it."
It's said you can find a little bit of everything at the annual yard sale. While some of the items are very old, people say even brand new items can be found.
Mike Walker, a Fentress County official, had an idea for the sale in 1987 as a way to draw visitors from interstates to the back roads. That year, county officials planned a route in KY and TN and compiled a list of nearby attractions for people to visit. The Fentress County Chamber of Commerce serves as the headquarters for the sale. Since then, the event officially known as the 127 sale after its initial route has grown to cover 690 miles, from Gadsden, Ala. to Hudson, MI. The sale has been featured on HGTV and the Tonight Show, as well as in Southern Living, Country Living, USA Today and Newsweek.
As continuous as it can be given the roads in rural areas. Through Alabama, some roadsides are not conducive to setting up vendor booths, either because of deep ditches or lack of access, but it's unusual to drive far without the sale picking back up. Some people rent their fields to vendors, some set up booths in their yards. Others take advantage of empty roadside buildings each year. You'll see a wide variety of sellers, buyers and merchandise. The Fentress County Chamber of Commerce advises visitors to honor requests of No Parking or No Trespassing posted by folks who are not participating in the sale–cars leave deep tire ruts on a soft lawn.