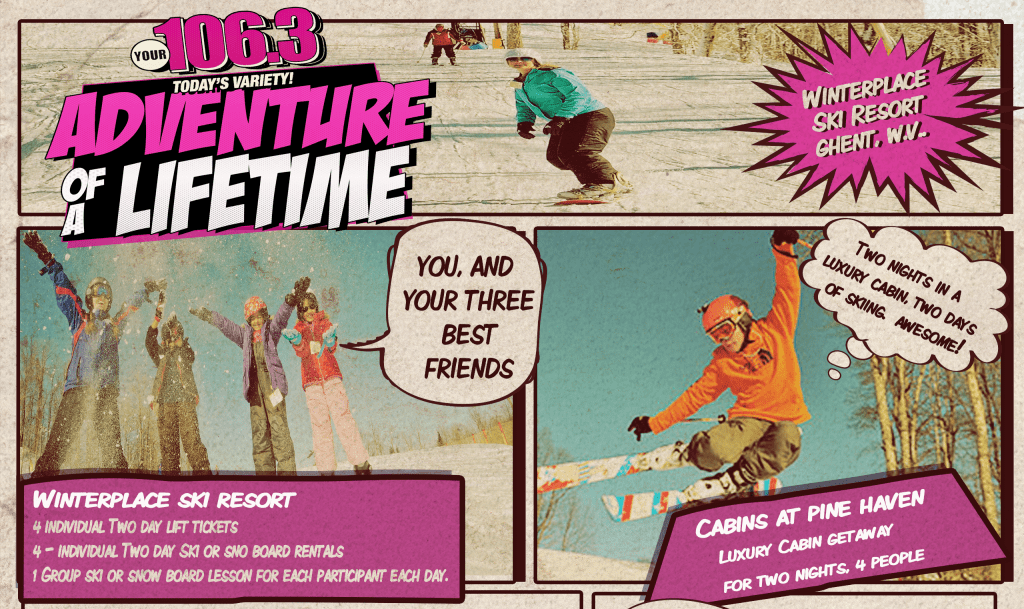 You, 3 friends…  and a great Winter vacation:  Two Days of skiing (or snowboarding) at Winterplace Ski Resort in Ghent, W.V.,  and an awesome luxury cabin (with hot tub) at the Cabins of Pine Haven in Beckley, W.V.   
Congratulations, you're on an Adventure Of A Lifetime!  Brought to you by Winterplace Ski Resort and YOUR 106.3.
Listen to qualify, when you hear the "cue to call" between the hours of 6am, 8am, 2pm and 5pm (Monday – Friday.  Excluding Thanksgiving Day: 11/23/17) call us at 859-280-1063.  If you are caller 6 you will be registered for the grand prize drawing to be held on Monday, December 4th (with Mandy In The Morning).
Photos: Courtesy  of  Winterplace Ski Resort
---
Grand Prize Package includes:
4 individual Two day lift tickets. 4 – individual Two day Ski or snow board rentals. 1 Group ski or snow board lesson for each participant each day. Prize is not valid for use on MLK ( January 13-14) or Presidents day ( February 17 and 18 weekend). $114.95 per person per day for a total package value of $919.60.
Cabin includes 2 night stay for 4 people at the Cabins at Pine Haven, Beckley, WV. Beckley is 15 minutes from Ghent and the ski resort. $470.00 value. Based on availability. Winner will have to schedule in advance to reserve their cabin.
Total Grand Prize Value:  $1,389.60.
Contest duration 11/13/2017 to 12/1/2017 (excluding Thanksgiving Day 11/23/2017).  Cue to call and register:  6am, 8am, 2pm, 5pm to 859-280-1063 (caller 6 will be chosen as the qualifier).  Each qualifier will receive a commemorative Adventure Of A Lifetime t-shirt.  Kentucky residents only. 21 and over to register.  No purchase necessary.  1 in 60 chance of winning the grand prize.  All qualifiers will be entered into the Grand Prize drawing, to be held Monday, December 4 during the Mandy in the Morning show. The grand prize winner will be responsible for any and all taxes, and will receive an IRS form 1099 at the end of the calendar year and a copy of such form will be filed with the IRS.
For the complete contest rules: WCDA-FM ADVENTURE OF A LIFETIME CONTEST RULES